National Education Policy 2020 - Reimagining vocational Education
The National Education Policy (NEP) aims to overcome the social status hierarchy associated with vocational education into main stream education in all educational institutions in a phased manner over the next decade. The National Curriculum Framework (NCF) 2005 also highlighted that there is a need to 're-consider the epistemology' of vocational education afresh by bridging the gap between academic and vocational streams. According to NEP 2020, by 2025, at least 50% of learners shall have vocational exposure through school and higher education. Every child is supposed to learn at least one vocation and be exposed to several more.
HOD's Voice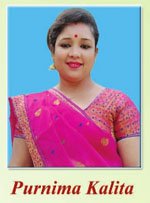 At the secondary stage, i.e. for students Make-up Artist & Baker of age 15 to 18 or Grade IX to XII, every student will receive training in at least one vacation and more if they are interested. The entire four year period in secondary school, Grade IX to XII, can be used not just to expose a student to different vocations but to help him/her to progressively build a considerable degree of expertise that a particular student takes should be left entirely to them.
Subjects allowed (For only Class IX students)
Retailing, Information Technology, Introduction of Financial Markets, Beauty & Wellness, Banking & Insurance, Marketing & Sales, Health Care, Multi Media, Multi Skill Foundation course, Physical Activity Trainer etc.